Today we raced in the heart of Amsterdam along the Amstel river. The distance was Olympic (1500m swim, 40k bike, and 10k run) and it was hot outside, so hot that we weren't allowed to wear wetsuits. Thousands of spectators all over made the pressure intense.
The race had a rolling start – 5 athletes would run down a path then jump off a dock into the water to begin their swim, 5 seconds later, another 5 would go, and so on. Fastest swimmers in the front and slowest in the back with 700 competitors crammed together in total today.
My wife, Krystal, is a faster swimmer, so she opted for the front with a few other Dolfijns. I, on the other hand, am a slow swimmer and tried to head for the back. Not today… Krystal asked me to join her in the front… Off we go into the muddy river.
Within seconds, Krystal and the three other swimmers left me behind only to have the next group of five swimmers ready to catch me moments later. In fact, every five or so seconds I was met with the next wave of swimmers passing me (more like trampling). Somehow, I maintained my confidence and kept pulling along. After the first ten or so minutes, I gained a cadence and began to enjoy the swim.
We swam in a straight line along the Amstel, then turned around and swam back towards the entrance. It was fun to see a few of the leaders pass by in the opposite lane heading back towards the finish of the swim – the best way to watch a race is to be in the race. The swim flew by and I began to exit towards the bike.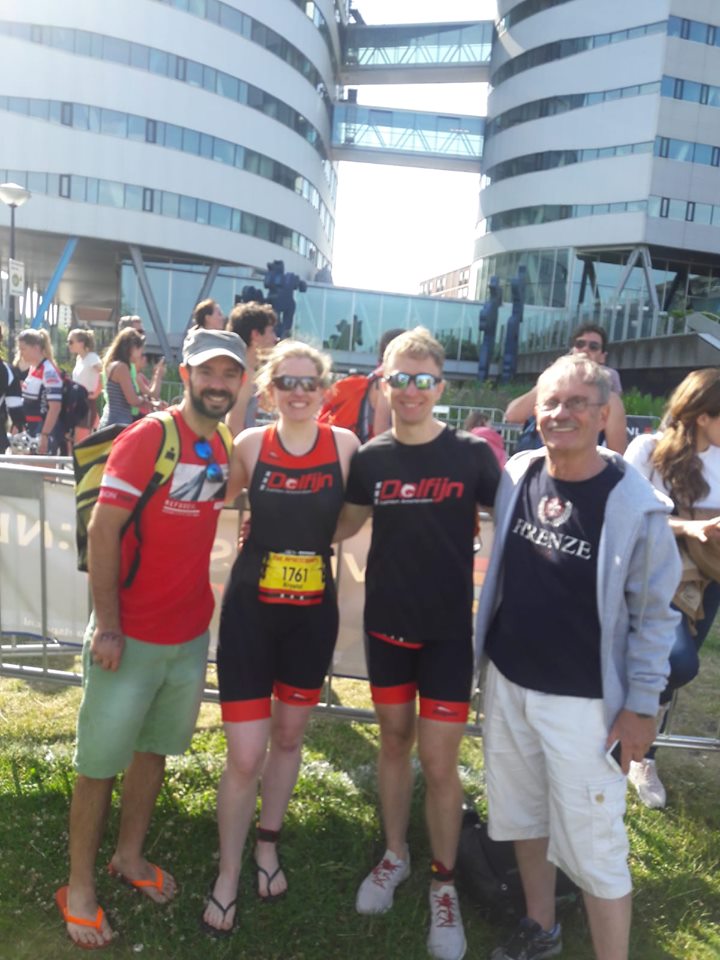 Triathlons require a lot of space to support each leg of the long distance race. Creating multiple laps of a track can help manage the size of a smaller track – not today. I had one 40 KM track to bike on and it was beautiful. When I started the bike portion, I was 400 or so bikers behind the lead. It was also the first time I used my time trial bike and this course included many tight twists and turns. Also, getting into the time trial aero position requires some getting used too. When you are in the aero position, you can feel the incredible power being transferred from your feet to the wheels while you slice through the wind. I rode very hard on the bike. It was also nostalgic as I knew these roads very well, I have spent hundreds of hours riding these streets with my friends – I hummed the Kensington song "Streets" during the entire bike ride with a few tears to shed.
I dropped the bike off in the transition and began my favorite part… the run, or so I thought it was my favorite part. Olympic distance races require you to eat some liquid food during the race to help balance your blood sugars. During the first few steps leaving the transition zone, I gulped down a PowerBar gel while my heart rate was soaring. Unfortunately, the gel went down my windpipe and I began to choke. It felt like an asthma attack, with hundreds of spectators watching me gasp for air. Fortunately, this moment quickly passed and I was OK, but it was scary.
I continued running hard and was cautious about the hot weather and all of the cramping that could happen. I drank a lot of water during the bike and thought that I should be OK. One factor that I didn't consider is that I had spent the whole week moving house and my body was wiped. Sure enough, cramping in my quadriceps ensued quickly, which kept me to a slower pace – especially during the many ascents on the tricky run course. I still passed a lot of people and felt great about the run, but it was hard to gauge how I was doing since there were many runners on the course from an earlier, half Ironman distance race.
My watch counted down the kilometers and bam I finished with a classic sprint to the end. Gasping for air, my friends and family were all there with smiles and many cheers.
Looking back I laugh how this race had my best swim and my worst run. It was also a great way to say goodbye to a country of people and places that I have learned to love in the past four years. Being away from home and family is a difficult thing, but immersing yourself into a nest of warm-hearted people, who make each other better, makes it worth every drop of sweat.